2 March - Make a date with Coventry Irish Month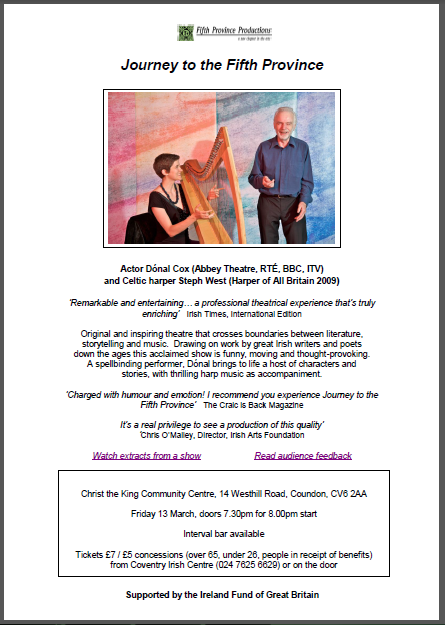 2015 - plans & projects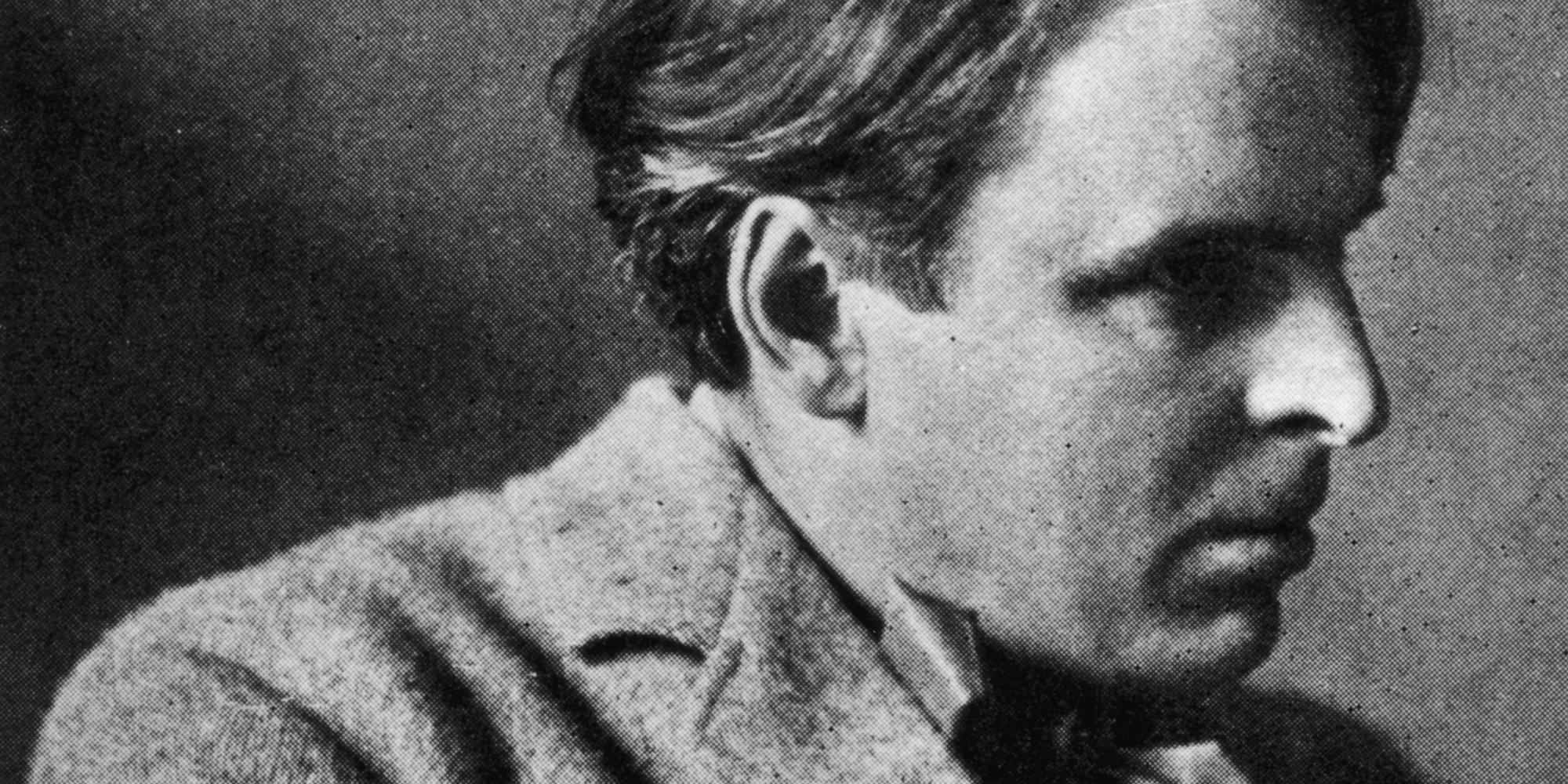 'Being Irish, he had an abiding sense of tragedy, which sustained him through temporary periods of joy.'  Poet WILLIAM BUTLER YEATS (1865-1939)
Delighted to announce the mixture of new and established work you can expect from us this year.
With 2015 marking the 150th anniversary of WB Yeats' birth we're celebrating the man and his work with a brand new show that will revisit the classical partnership of poet and harp.
For those who've not yet seen it - and for any who'd love a second look! -  there'll be one or two more opportunities to catch our signature production, Journey to the Fifth Province.
Plans are afoot for collaboration on a new and startling film.  We have a location visit coming up that'll require wellington boots..  More news when we've made it back to dry land.
Dónal has under way a number of other projects as an actor.  We'll share some links to those we think will interest you as and when they become available.  
Check back soon!
11 Oct - Fifth Province meets William Morris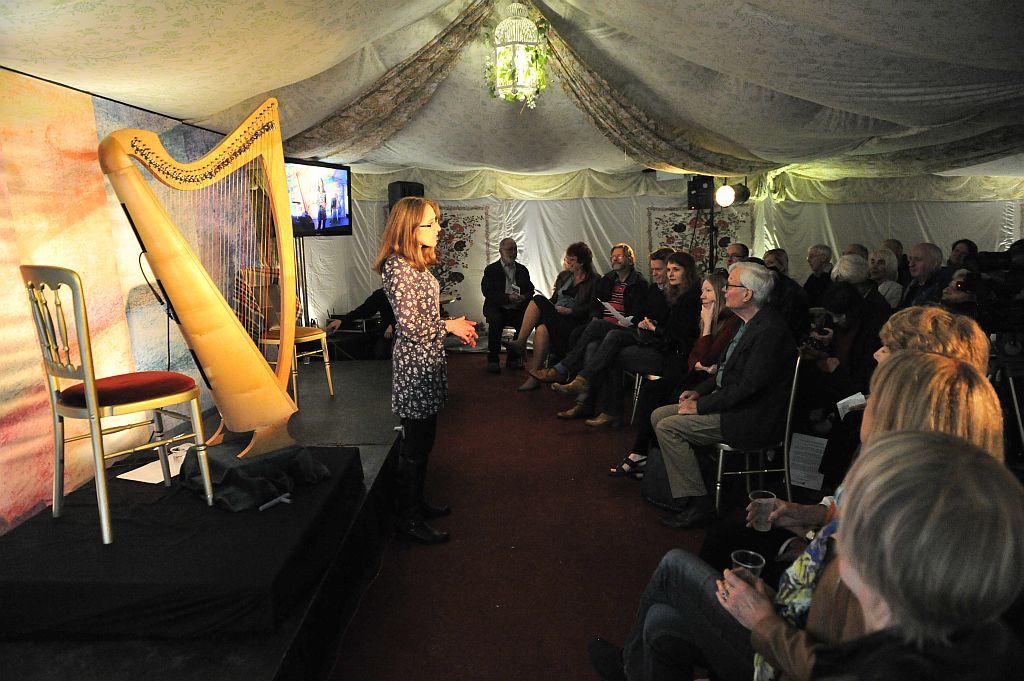 The lovely, intimate William Morris Tent at Wimbledon BookFest.  Producer Liz welcomes festival goers with some context for Fifth Province Productions' contribution to the festival: how our work chimes with Morris's own, and the particular focus given by National Poetry Day.
A pin-drop listening from the packed audience as Journey unfolded, and a hugely enthusiastic response to follow.
"the audience was blown away... people are really talking"  - Festival Director, Fiona Razvi 
1 Oct - It's nearly National Poetry Day!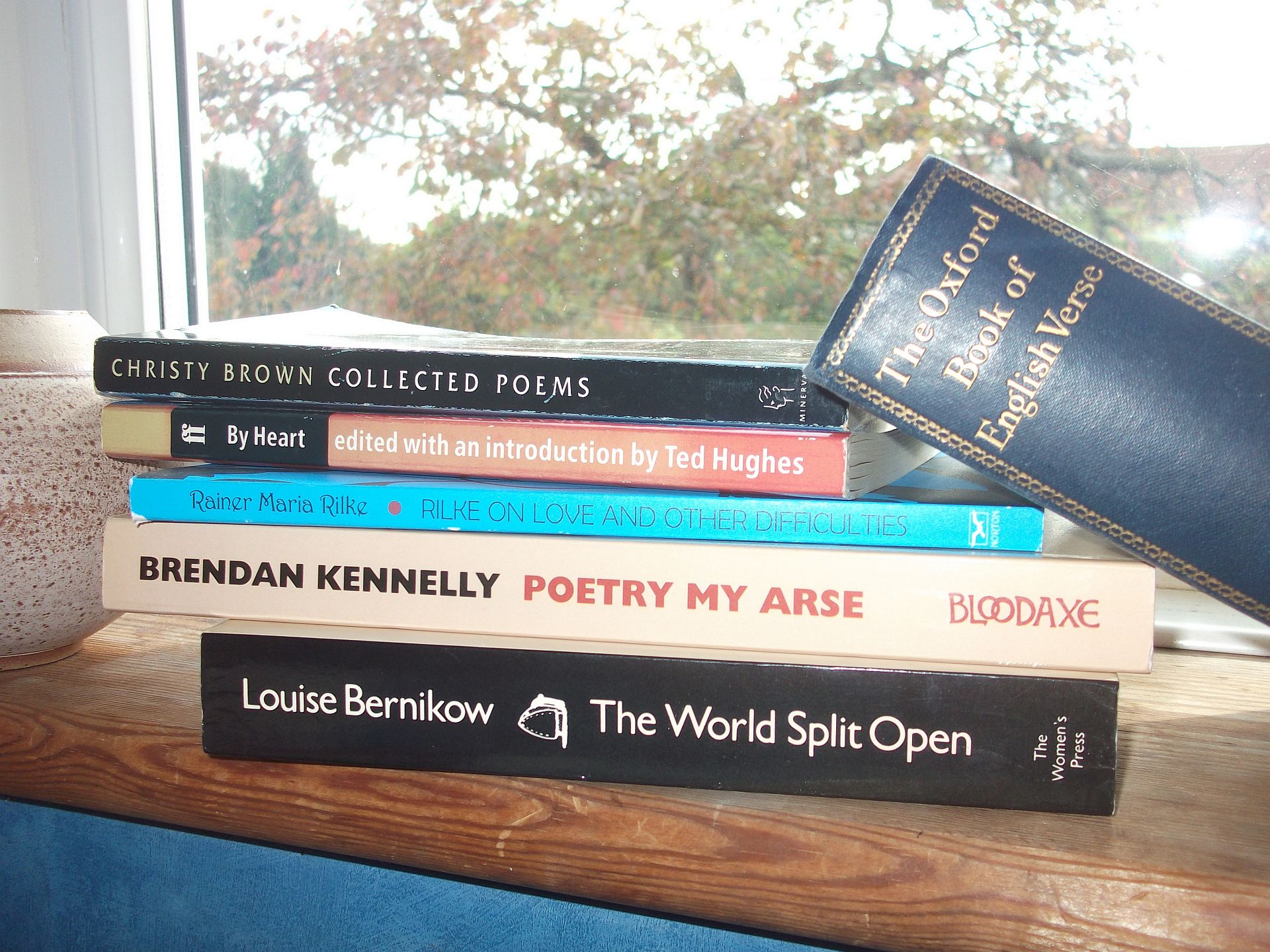 Poetry in mind. Expected or unexpected, it finds its way into every corner of life. In marking National Poetry Day, 2 October 2014, our next performance of Journey to the Fifth Province is part of a huge nationwide celebration of the poetic voice - wherever and however it's heard. Read more about our contribution http://bit.ly/1me0px1 and about the wider event http://bit.ly/1mPmPVI
23 Sept - 'Irish literature brought to life' in SW19
With less than two weeks until we appear at Wimbledon BookFest local news media are enjoying the story of our non-profit arts organisation launched and grown with the support of initiatives from the local Merton Chamber of Commerce.
Read it here at WimbledonSW19.com
Journey to the Fifth Province - Saturday 4 October, 6pm in the William Morris Tent, Wimbledon Common, SW19 5AZ (near the village War Memorial)
A limited number of tickets are still available here
18 Aug - Hitting the BookFest trail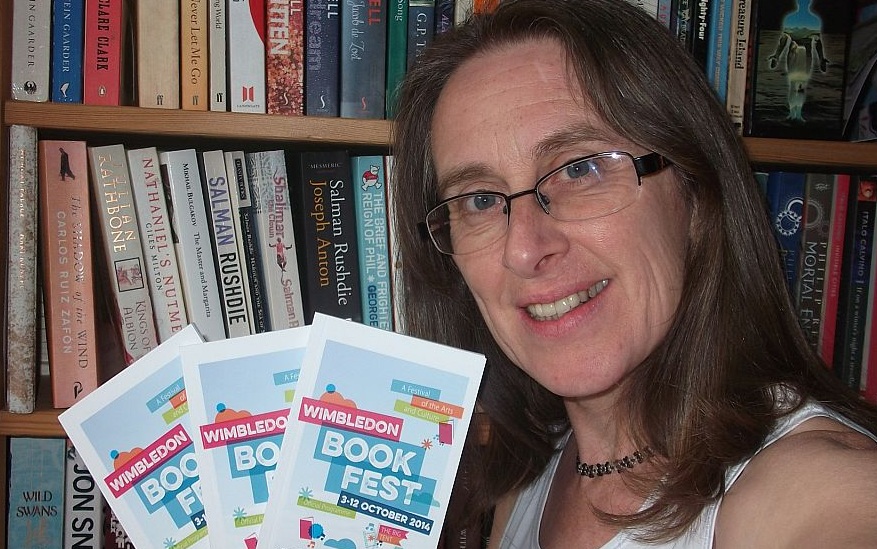 Producer Liz - spreading the word!
Thrilled that we've been asked to present Journey to the Fifth Province as part of Wimbledon BookFest this autumn.  Offering a programme that goes beyond the expected, organisers have broadened the festival's scope this year to include both a selection of top notch author events and a number of other literary gems as well. With Fifth Province Productions CIC based in the same London borough, we also fulfil the organisers' wish to support local production companies. Perfect!
Our show fits the bill not just because it's rooted in superb poetic literature but because it delivers something that's original, immediate and surprising.  
Looking forward hugely to our festival slot on Sat 4 October at 6pm.  You'll find us in BookFest's William Morris Tent, on Wimbledon Common (closest spot to the Village and War Memorial).  Details and tickets available here
25 Feb - 'Exceptional' show for Ambassador & our sponsor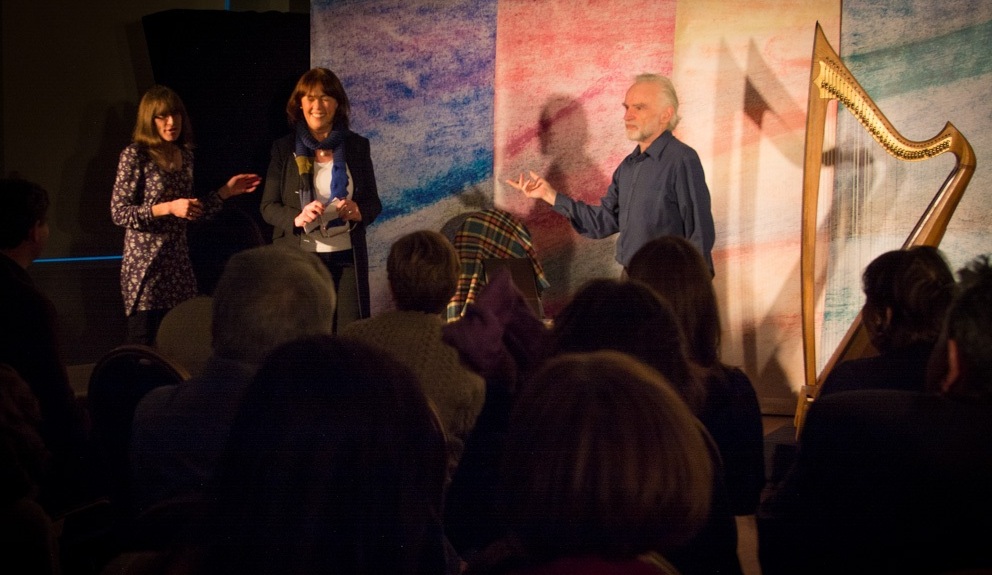 L-R: Producer Liz Newbery, Kathy Murphy (representing our lead sponsor for 2013-14 J Murphy & Sons Ltd), actor Dónal Cox [Photo: William Walsh/London Irish Centre]

Journey to the Fifth Province played to a full house in the Presidential Suite at London Irish Centre on Sunday. We're honoured to have given the show in the presence of Ambassador Mulhall, who has a keen interest in literature and the theatre. Representing our sponors J Murphy & Sons Ltd were Kathy Murphy, wife of the late John Murphy, the company's founder and Margaret Haugh from the Chief Executive's Office.

Actor Dónal Cox and harper Harriet Earis received a standing ovation for their breathtaking performance. In a short address after the show Kathy Murphy spoke warmly of the connection with Fifth Province Productions. She said "We're delighted to have had the opportunity to sponsor Journey to the Fifth Province. Congratulations and very many thanks to all involved in the production on your inspiring and powerful performance."
4 Jan - Sponsorship celebration confirmed!
Besides wishing you all a very happy New Year we're thrilled to announce a special public performance of Journey to the Fifth Province, on Sun 23 February at London Irish Centre, to celebrate a year of generous support from J Murphy & Sons Ltd. Not only are we proud that Fifth Province Productions is the first Arts organisation to have received sponsorship from the internationally-renowned construction firm, but we're delighted to hold the afternoon's event in Camden, so close to Murphy's own north London base. Look out for more event details coming very soon.
26 Nov - Two 5-star reviews for NAWTM!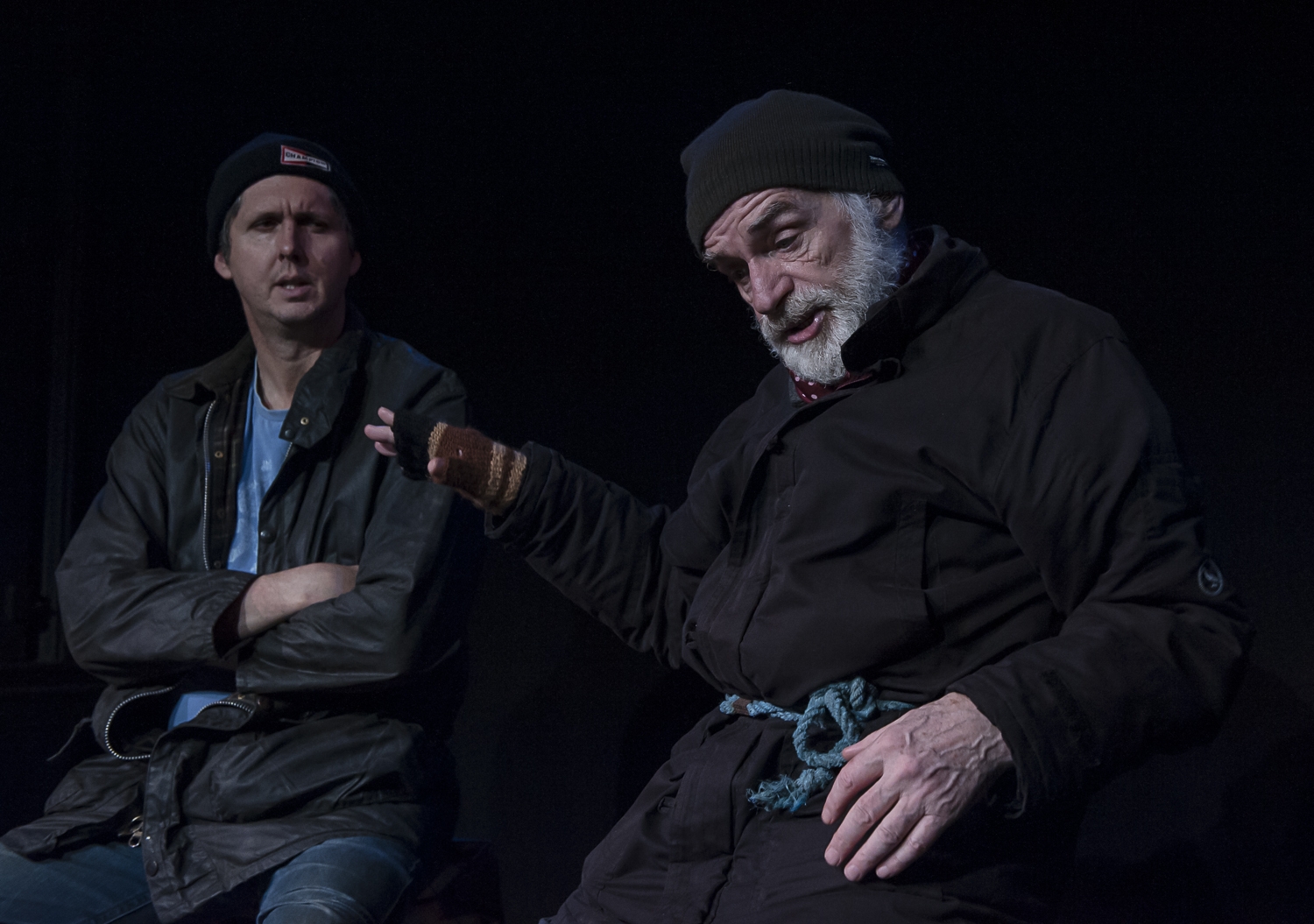 An extremely positive response to the play in our first week at the Etcetera. We're delighted to report that there are two great reviews, each giving it a 5 star rating! Click on the links below to read them in full.
A taster from the Evening Standard:
'Cox and Eastman are both super. Ignore the noise from the pub below: the real world is happening on stage.'
And from Remotegoat.com:
'A truly bold piece of theatre... The acting is superb, of a depth you don't see often at a Fringe venue... and there's a compelling quality that owes much to the physicality of the performances.'
Now into the second week of our run, and building our audiences. A big thank you to Timothy Stubbs Hughes for the production photos we're able to show you.
20 Nov - Energised performances on opening night
Opening of Night, A Wall, Two Men at the Etcetera Theatre in Camden! The show in great shape and very well received by our first preview audience. Good to experience it with sound and lighting in place - just enough to evoke a street setting. We're struck by the words of several audience members - the play cast a valuable light on their working context - with and among people who are homeless.
Second preview coming up. And press night. And the rest of the two week run. We're looking forward to it.
5 Nov - Night, A Wall - and two men in rehearsal
Our new production of Daniel Keene's uncompromising play Night, A Wall, Two Men.
Well into rehearsals, Dónal and John are the two men of the title. Lighting designer Célia Dugua, with her wealth of Edinburgh Fringe experience, is working with us to create the play's night-time location.
Not for the faint hearted - expect strong language and some uncomfortable imagery! Two weeks until we open at the Etcetera, Camden. Click here to read more.