30 Aug - New production for London, November
Exciting news to share, about a very special project for this autumn! In November we'll be presenting Night, A Wall, Two Men, a startling piece of theatre by Daniel Keene. Performed by the two men of the title - our own Dónal Cox and wonderful Australian actor John Eastman - this will be the first ever London run of Daniel's play. Experience the world the two men inhabit at the Etcetera, Camden, from 19 November - 1 December.
Expect the unlikely humour and harsh idiom of life on the streets.
Keep an eye open here and on our Facebook page for updates as the production takes shape.
10 Aug - Here's the evidence..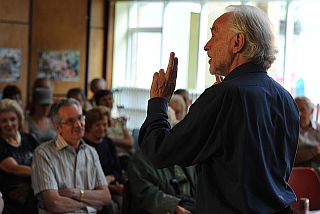 Spellbinding in its simplicity. The power of language to transport.
Thank you to all at East London Irish Pensioners Forum who made it possible for us to share such a magical piece of work.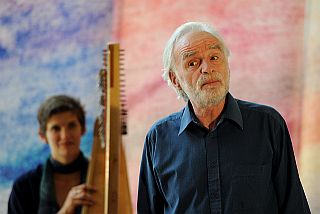 31 July - Not at all your average afternoon in E7!
'Journey to the Fifth Province' does it again - this time in Forest Gate, getting a fantastic reception yesterday from members and friends of the East London Irish Pensioners Forum. Ever wonder why we tour this production? The feedback says it all:
"A really stimulating performance" "I've been swept along on a magical journey" "Transported me" "What a wonderful afternoon's entertainment"
Congratulations to Sally, John and the Committee for having the vision and energy to present for the first time a cultural event of this type - adding something fresh and inspiring to their well supported programme of activities. Our thanks too for a very warm welcome. Look out for the photo evidence coming soon..

30 July - Landmark event for east London Irish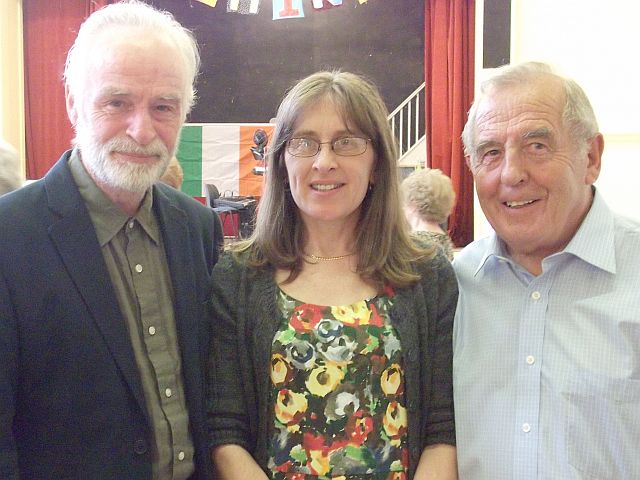 Making preparations with John O'Connor (right) for what will be nothing short of a landmark event in east London. Chairman of the Irish Pensioners Forum of East London, John heads a thriving organisation with its base at Durning Hall in Forest Gate. As an example of drive and determination to re-establish a focal point for their arts and culture this initiative from the older Irish in East London is hard to beart. Sally Mulready, honoured last year by Irish President Michael D Higgins for her community work, has been a prime mover in inspiring the Irish Pensioners Forum to host the first such cultural event in 20 years, drawing people from across all 7 boroughs of east London. A delight and an honour for us to be presenting 'Journey to the Fifth Province' on such a special occasion. Tuesday 30 July, 2.30pm; Durning Hall Community Centre, Forest Gate; tickets £6/£5 concessions MORE INFO HERE & A VIDEO TASTER HERE
7 July - It's all happening in Wimbledon
Quite aside from hosting some thrilling tennis, Wimbledon's become a very exciting place for us over the past fortnight thanks to an organisation called 3Space. A charity, working in partnership with landlords and leaseholders, it offers temporary shared work space to other organisations that benefit the community. As a non-profit Community Interest Company, still at an early stage of development, we're able to use the flexible working and meeting areas of a central Wimbledon premises - free of charge. A brilliantly simple win-win idea. Thank you 3Space: a welcome change of gear for us, and an opportunity to connect with some other non-profits and start-ups. One set all!
4 July - Difficulty contacting us?
Sorry! Our 'Contact us' page has developed a fault. While we sort out the problem please contact us direct, at This email address is being protected from spambots. You need JavaScript enabled to view it.
2 March - Starting the month's celebrations in Haringey
At Haringey Irish Centre yesterday our show's audience included people who attend the lunch club for seniors, use the Centre's advice service or take part in activities with Haringey Irish Pensioners.  Here's some of the heartfelt feedback we received from them:
"It's been a real awakening.  Refreshed my memory and transfixed me completely."
"England's not a patch from our Irish background, so enjoyed re-living once again thoughts of home."
"When you spend so long over here you lose your way.  This helped put you back on the right track."
28 February - At home with Innisfree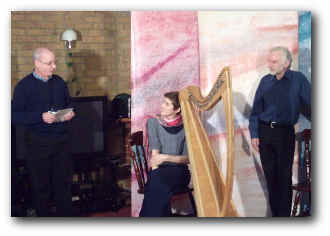 Our first performance of the season, at sheltered housing project Clochar Court, in Harlesden. Jim Sheeran, Sheltered Housing Manager for Innisfree Housing Association, thanks Steph and Dónal for a performance that brought the Fifth Province right into where his tenants live, and marvels at how Steph can "make the harp talk"! An audience member adds "We enjoyed the afternoon very much as it brought back years of memories. We liked the laughs and the poetry."
19 Feb - Rehearsal time again
Oxford is lovely on a sunny day - especially when we're on our way to rehearse with harpist Steph in preparation for the imminent tour dates.  Fantastic to visualise new audiences being caught up in the show's magic. 
15 Feb - New season, new sponsor!
Thrilled to be able to announce that J Murphy & Sons Limited are sponsoring our lead project this year.  A giant of the construction and infrastructure industry, Murphy have generously agreed to support the work of Fifth Province Productions in bringing 'Journey to the Fifth Province' to audiences who are among the more marginalised groups of Irish people in the UK.  Their support for our work lets us extend to groups of isolated Irish seniors, residents in sheltered housing and users of day centre services, the opportunity of experiencing a high quality theatrical performance in a place and at a time of day that meets their particular needs.
Our warm thanks to J Murphy & Sons Limited for having the vision to take a first step into sponsorship of the arts, in a way that pays special recognition to the generations of Irish people who've relocated in order to work here in the UK, particularly within the construction industry.
5 Feb - Whetting appetites
Been having fun in the past week, connecting with some of the people who'll be at the core of our audiences for 'Journey to the Fifth Province' this spring: an invitation to lunch at Haringey Irish Centre, a visit to trail the show at Clochar Court in Harlesden, and a presentation about our work at the Irish Community Services AGM in Charlton.
Lots of lively conversations, and plenty of interest in the show.